HOLIDAY CHORUS
Do you enjoy singing? Love spreading Holiday Cheer? Well now is your chance to learn and perform five delightful holiday songs as part of Channelaire's Holiday Chorus. We will be singing holiday songs at a variety of venues in Ventura and Santa Barbara counties in December.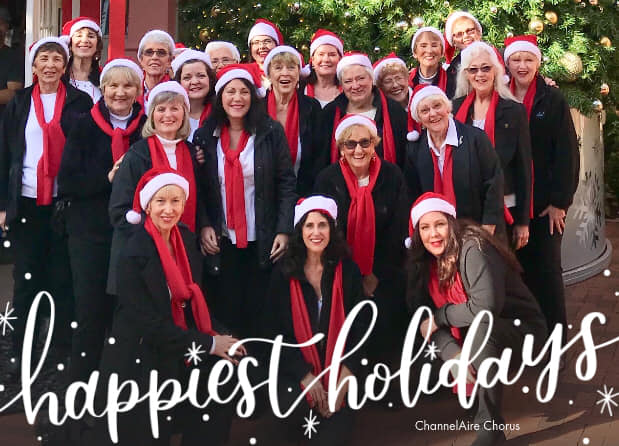 Join our rehearsals, beginning November 1st, on Tuesday nights from 6:30 pm to 8:00 pm to learn five wonderful holiday songs in four-part acapella harmony. In a warm and welcoming environment, we will help you learn songs with a combination of rehearsing together, sheet music and learning tracks. Don't worry if you can't read music or it's been years sing you sang, we're in it together for the joy of singing!
Attend at least four of the six holiday chorus rehearsals, and learn the music to a good standard, then join us for as many of our performances over the holiday season as you wish.
Dress warmly as we begin our rehearsals outdoors in the courtyard (masks are optional). Later in the evening we will move indoors to another rehearsal space (masks are required indoors, please bring a mask you are comfortable with, N95 or KF94 masks are strongly recommended).
A $10 music fee will be charged.
Rehearsals: Every Tuesday - 6:30pm - 8:00pm
850 Ivywood Dr., Oxnard, CA  93030
For more information  -  Call: (805) 247-1990  or  Email: [email protected]  
___________________________________________________________________________
Members of the ChannelAire Chorus come together every week to share the joy of singing, but it's so much more.

Any woman who once sang with a high school or church choir and now has those "Gee-I-miss-singing" pangs will find that membership in the ChannelAire Chorus has much to offer.
Our members are not professional singers. We're teachers, realtors, nurses, accountants, housewives and engineers. We encourage women of all ages to sing with us.
We're always looking for energetic, enthusiastic, vocally talented women who are interested in being the best singers they can possibly be. The ability to read music is helpful, but not required. Previous singing experience is a plus, but not a prerequisite.
The friends you make in the chorus are friends for life.
Why not attend a rehearsal? Come to sing or just to listen - there's no obligation. We love to sing for visitors and, of course, are thrilled to meet prospective members!
Rehearsals: Every Tuesday - 6:30pm-9:00pm
850 Ivywood Dr.
Oxnard, CA  93030
For information:
Call: (805) 247-1990 
Email: [email protected]
For additional information, contact the ChannelAire Membership Coordinator